${{money | showMoney}} left
{{product.name}}
${{product.price | showMoney}}
Your Shopping Spree
{{product.name}} x {{product.quantity}}
Who wouldn't want to win millions or billions of dollars? But becoming wealthy requires a lot of work. Right? Try the Spend Elon Musk Money game. But you can become wealthy in a game and purchase anything you desire. You heard correctly; that's true! Let me take you to the virtual world, where you can buy unlimited products for your needs.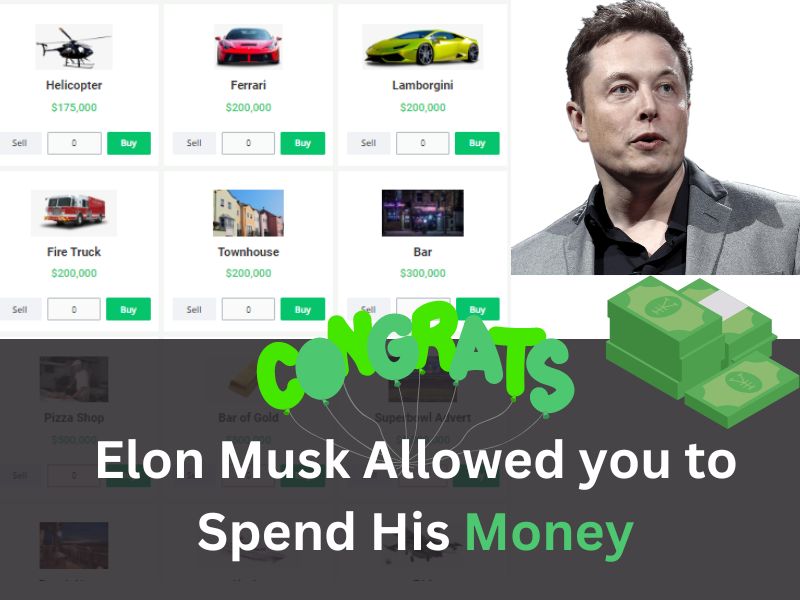 CHECK: Spend Mark Zuckerberg's Money
Elon Musk is a well-known businessman who has spent his entire life making billions of dollars. Elon Musk has a net worth of $198.2 billion. He founded SpaceX and enjoys investing in businesses. Tesla's CEO, as well as the owner and CEO of Twitter, is the founder of the Boring Company and the co-founder of Nerualink and OpenAI.
Want to experience how it feels to be a billionaire like Elon Musk? Spend Elon Musk Money Game, where you will be given 196 billion dollars. You can use these billions to buy cars, AirPods, phones, Mac books, gaming sets, robots, franchises, libraries, lifetime subscriptions to Netflix, private islands, concerts, helicopters, airplanes, NBA teams, and many other things. You can use Elon Musk's money to buy around 60 products.
If you have the opportunity, spend all of Elon Musk's money. How long would it take to spend Elon Musk's money? I'll discuss how to use Elon Musk's funds wisely in this article so you can succeed in the game.
CHECK: Spend Steve Jobs's Money
About Spend Elon Musk game
The Bahri Corporation created the spend Elon Musk game. One of the most popular games in the Casual Game category on Google Play. The file size is 13M, with over 10,000 app installations.
How to Play the Spend Elon Musk Money Game?
Despite the fact that the game is relatively simple, there are a few things you should know before beginning.
Plan ahead
Don't waste money by making impulsive purchases. You can spend money on many items, including robots, food, home decor, etc. Make a list of the items you want to purchase, and then begin adding those items to your list.
Competition:
You can challenge other players to see how much cash you can spend in 30 or 60 seconds. To win the challenge, follow the 1st step carefully.
Spend all of Elon musk money in 30 seconds
Spending 30 seconds' worth of Elon Musk cash is difficult. Before beginning the game, determine which items have the highest price. Add the pricey luxury items to your list by clicking the buy button. Still, a minimal number of people completed the third 30-second challenge.
Spend Elon Musk's money in 60 seconds
Spending the money Elon Musk gave us in just 60 seconds is simple. Make a list of items, and when the game's 60-second timer sounds, start buying immediately to finish the task in time. If you leave nothing empty before the timer expires, the challenge will be finished automatically.
How to Download the Game Spend Elon Musk Furtune on Your Phone?
You need the android operating system on your phone to download the Spend Elon Musk game. You needn't worry about storage because the game only takes up a little room. The steps for installing Spend Elon Musk Money Unblocked on your phone are listed below.
Step 1:
Launch the Google Play Store on your phone, enter "Spend Elon Musk" in the search field, and then tap the search icon.
Step2:
Open the game with the best reviews, then select the Install option to download it to your smartphone.
Step 3:
Once the installation is complete, select Open to launch the game.
How To Download Spend Elon Musk Game On PC?
Suppose you own a computer and want to play a game on a larger screen. The download instructions are provided below.
Step 1:
Launch the blue stack program on your computer if you don't have access to that program. Download it using this link or from Google.
Step 2:
Open the app after completing the Bluestack emulator installation process. The loading of that application is slow.
Step 3:
Click on the pre-installed Google Play store from the home screen after completing the loading process.
Step4:
Search the "Spend Elon Musk " game to download or install on your computer.
Step5:
Click the install button to download and install the app on your computer. You can access the Speed Elon Musk Money Game by selecting "Installed Apps" in BlueStack whenever you want to play.
Note: You can save time by simply importing the apk file you already have into Bluestack.
Conclusion
Try the Spend Elon Musk Game if you're a game nerd and a fan of Elon Musk. After its release, the game where you spend Elon Musk's money quickly gained popularity. I've covered how to download and play the Elon Musk game in this article.
Play this game and share your comments about how it feels to spend Elon Musk's money.
REF: https://www.cnbc.com/2021/05/19/online-game-spending-elons-fortune-how-fast-can-you-spend-billions.html